THE QUIZ IS WRONG!
David called me on New Year's Day to take me to task for my post on January 1st. You would have thought, being a friend of over two decades, he would just be calling to see how my holidays were. How wrong I was. At first he seemed all cordial, until he got to the real reason he dialed my digits.
He took me to task for being "an Eyore". He thinks I should be "a Tigger". David says I need to lose the 'dark cloud' thing. I'm not completely disagreeing with him - but it's not like I make a habit, in this blog, of getting too down on myself - do I?
So while on the phone, I flashed on his comment and all those internet quizzes who tell you what kind of character are you - depends whichever niche quiz you opt to do. Since he had chosen a
Winnie the Pooh
theme, that is the one I went for. Here was the result: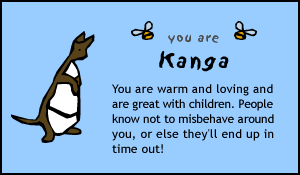 Take the 100 Acre Personality Quiz!
It's all a lie. I'm no Kanga.
Even while on the phone I had pegged which character I'd be.
I'm Rabbit. Fussy. Controlling. Know-it-All who is always ends up being proven wrong. Slightly Nelly. (
I just put that last thing in there before the comments from Jon and Morty started flying.
)
At least I'm not Sebastian Cabot - like I accused David as being his closest character/narrator association might be considered. And it wouldn't be the first time he was referred to as "Mr. French". (wink wink...knowwhatimean...knowwhatimean?)
The big plus is - neither of wouldn't be considered that knicker-wearing, tea party going little sissy - Christopher Robin.